I've just completed my first ever commission!  How exciting!  So I decided to make a little step by step guide for you to share it!
I was recently persuaded to take my stock box into work to show the girls what I make.  They were very complimentary about my bits and pieces and bought quite a few things which was really lovely.  I do find it hard taking money from people I know but as they said I can't just give things away and I don't charge over the odds for them.  I really just cover the costs of materials and not much more.
Anyway, my friend at work was telling me that it was her neice's first birthday was coming up when I was showing her the little embroidered pillows I'd made.  She said she would love one with her neice's name and stars on it, so I set to work.   Here's how I did it…
What you need:
Felt – for main body plus different colours for decoration
Embroidery needle
Embroidery thread – matching and contrasting shades
Stuffing / wadding
Buttons – 2
Ribbon – 1.5 x width of cushion
What to do:
1.  Cut two pieces of felt to the finished size you want the cushion to be (this one was approx 15cm x 11cm)
2.  Cut a variety of stars in contrasting felt in different sizes
3.  Lightly mark the name / text on the front side of one piece of felt
4.  Using back stitch, embroider the letters in a contrasting colour (I separated the floss down to two threads) 
5.  Embroider one of the stars to the back of the cushion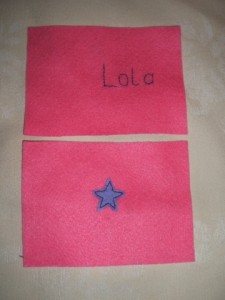 6.  Place stars around the text until you are happy with the layout and colour placement
7.  Embroider the stars in place using a variety of stitches and colours of thread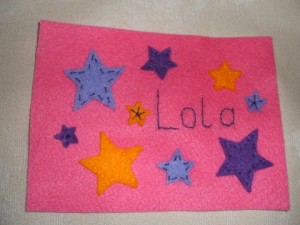 8.  Join front to back with running stitch, adding ends of ribbon at top right and left corners between the two layers (don't worry if ribbon isn't very secure, you'll fix that later)
9.  Fill with stuffing before joining final edge (you could add lavender at this stage too)
10.  Sew a little button to each corner where the ribbon is joined, making sure you go through all the layers including the ribbon.
11.  Hang up and enjoy!