Although leaving the house was the last thing I felt like doing yesterday I had set my heart on going to Knutsford, and going to Knutsford we did. 
My main purpose was to go to Fibre and Clay as I wanted to get some lovely yarn to crochet something for myself.  I'm right in the middle of baby projects at the moment and looking forward to using some luxury yarns and vibrant colours just for me.
As usual Riana and her team were really helpful and remembered me from their crochet course last August!  I had to admit to having not touched knitting since then, in favour of crochet.
I didn't go tooooo mad but I did buy a few lovely things.  I chose a book which I had been looking at online a few days earlier which didn't really appeal until I was able to flick through it.  Loop Vintage Crochet by Susan Cropper contains 30 patterns for garments, accessories and the home.
Fibre and Clay stocks a great range of yarns and had quite a few in the sale – and it turned out all the ones I chose were reduced!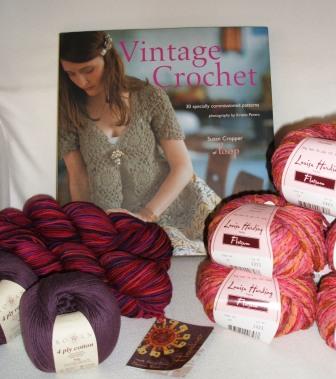 I got 7 balls of Louisa Harding's Flotsam in a gorgeous pink to crochet a wrap from the Vintage Crochet book, 2 of Miraso Hancho, a red and purple hand dyed merino, and 2 of Rowan 4 ply cotton in a rich aubergine plum shade.  I don't yet know what to do with the Rowan Cotton, but it is in my mum's favourite colour so I shall make something for her with that.
So this will be my next project – the 'Ava' wrap from Vintage Crochet:
We also went to Waterstones and I got 3 novels to get myself back into reading, as I have got out of the habit in the last month or so.  I also got some pretty little butterfly post-it type stickers, just because they were so gorgeous – and useful as little bookmarks and place markers when following patterns.  Caveman can't leave a bookshop without a) buying more books and b) saying 'I just don't have enough time to read'!  He was true to form on this occasion, but I wouldn't want him any other way!
All in all we had a rather lovely afternoon out, followed by dinner in Pizza Express and then home for an evening playing with yarn and books!  A perfect Saturday!