I'll forgive you if you have to look at this a few times and screw your eyes up a bit to work out what it is!
I've always looked longingly at amigurumi wishing I could make something so small, cute and neat and with my new-found crochet skills I felt the time was right. 
Although the little 'creatures' are sweet, something else caught my attention at Lion Brand.  You've probably noticed by now I love tea in many forms and tea with craft is a great combination.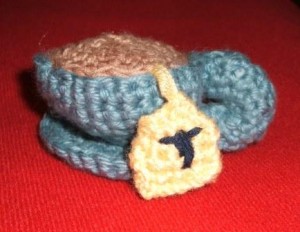 So here is my attempt! OK, so I'm not saying it's my finest work, but it's a start and I thought it only right that I share it. 
I decided to enhance the original pattern with a saucer and 'T' on the tea bag tag just in case it isn't clear what it's meant to be.  I followed the pattern for the handle exactly but it is proportionally very chunky, so I'd try for a more delicate version next time.
Funniest of all though I am going to give this to a fellow tea and craft loving friend.  If she's reading this she'll know who she is.  Lucky girl…. maybe!!  My only concern is that she may choke on a custard cream laughing at it!
(It's a little crochet tea cup and saucer with dangly teabag in case you're still wondering!)