There's nothing like being away from home in a cottage in the middle of nowhere for some time to crochet! And that's just what I've done the past few days! New year in Yorkshire is wild and windy, but crochet filled!
I'm not often a very intensive crocheteer, but the past few days I've found my mojo – long may it last!
What have I made? Well, you saw a glimpse of colourful pastel yarn in my last post as a teaser. I've been meaning to try McKinley's Sprintgime Hat for ages and finally got round to it!  When I was visiting my family at Christmas time one of my nieces arrived wearing a gorgeous crochet hat her mum had bought her.  I recognised the pattern straight away and remembered it was in my faves on Ravelry.
I had recently made my other niece (I have 2) a beret that just didn't fit so she was top of my project list for McKinleys hat.  I've now made 2 of them and plan one more – she has two cousins who she will share them with!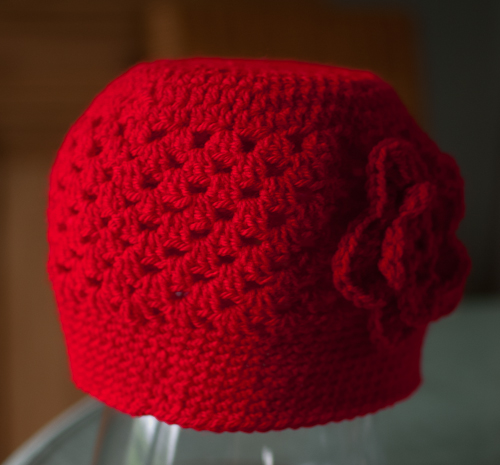 The red one is Stylecraft Special DK (Share 1010 Matador) and there's not much to say about it that hasn't been said before all over crochet blogland.  Hard working yarn that does what it says on the tin etc.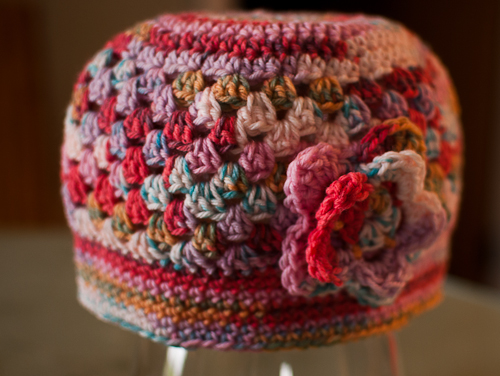 As for the pastel yarn, well…. it's gorgeous: Sirdar Snuggly Crofter Baby Fair Isle effect DK (quite a mouthful isn't it).  This yarn is really really lovely to use and feels wonderfully soft yet stable and practical and the colours are super.  I used shade 0159 and on the ball it looks pretty but made up I love it so much more.  The composition is 55% Nylon / 45% Acrylic but it doesn't have a synthetic feel – if anything it has a lightweight cotton blend handle, without the weight or firmness.  I think it's perfect for this hat pattern.
I wanted to make the hats slightly larger than in the McKinley pattern so I added one round to the centre pattern, 3 rows to the shells and one row to the banda although I have to admit I spiralled the band so didn't keep count the same, I'm guilty of not using markers very often.  I used a 4.5mm hook, which for some reason is my preference when using double knit yarn, over a 4mm, unless it 'feels' slightly finer than a standard dk.  The flower I used is one I made up myself.
So with these hats some little girls will have cosy ears – much needed after the storms this week!
And what of my other make?  Well, the man who puts up with all my crochet and yarn (which is now in his house so there's no hiding it) never gets the benefit of it, poor soul.  Time to remedy that.  He isn't a cosy cable jumper or homemade socks kind of guy, so I whipped up a mega chunky cosy scarf for him.
The yarn is King Cole Magnum Chunky and used 3 balls in shade 349 – a nice manly grey (he was given alternatives at scoffed and each of them!).  I'm going to write out the pattern properly in another post, although it was very simple and I made it up as I went along.
So there you have it!  A big start to my crochet year and lots more to come, if my plans go according to plan!
I'd love to hear what you've worked on so far?