I'm embarrassed to say this post should have been written about a month ago!  But its been nonstop round here; craft fair, Christmas shopping, weekend in London and busy busy in the day job and I'm now stuck at home with a cold! 
So I thought what better time to write about the goodies I got in Yorkshire (all those weeks ago) while I'm sitting under a blanket with a cuppa.
I have two sets of loveliness to report.  I think I'll start with tea.  I had been really excited about visiting Harrogate, not least because it is the home of Betty's Cafe Tea Rooms!  Purely by coincidence (honest) we ended up parking just near Betty's so headed there first.  As expected there was a long queue and everyone was saying there was up to a 45 minute wait.  It's no secret that I love tea, but balanced with my hatred of queueing, I was not going to wait. We decided to have a look around Harrogate and return. 
After a good look around Harrogate, including trips to Duttons for Buttons and Cath Kidston (see below) we returned to find the queue just as long.  There was only one thing for it… pop into the bakery and take some goodies home.  Here are the things I got: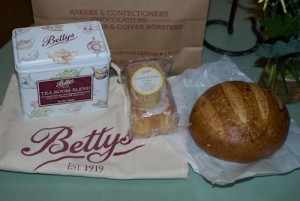 A lovely lemon cake, tomato and herb loaf, Betty's Tea Room Blend tea and a cotton Betty's bag to carry it all in.  Yum!
And then there was the Cath Kidstonshop.  I have never been in one of her dedicated shops before, only the section in Selfridges nearby at the Trafford Centre (which is virtually my local shops!).  I have never particularly thought of myself of a fan of Cath Kidston, but my heart did skip a happy beat when I saw all the colourful and flowery loveliness in the shop.  I just couldn't resist.  I am ashamed to say I have yet to do anything with the lovely things I bought (back the the aforementioned busyness I guess).
So what did I get, well, a pretty little selection!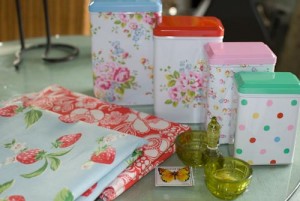 I got 2 pieces of gorgeous cotton print fabric (I had a really hard job choosing which ones as cotton print fabric is my favourite of favourites, especially little repeat prints), a set of matching tins, a little butterfly brooch and a little green glass salt and pepper pinch pot.
I plan to use the fabrics just for myself.  How selfish is that??!  I think I might crochet some cushion fronts and back them with these fabrics.
I must be getting into the Cath Kidston thing as I have since bought her Sew book too!  Not had the chance to make anything yet, but it comes with the pattern and fabric for the bag on the cover, so that seems like as good a place as any…