I got THE cutest note cards on a recent visit to a garden centre with my mum and dad.  Cute tin, cute crochet and cute stationery!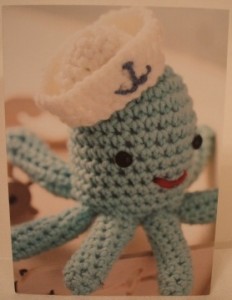 The cards don't have patterns for each of the cuties, but they each have their story on the back:
'Bella, Morella and Fin are bees who love to perform.  They have just started their own singing trio, the Bee Flats.  They've already lined up their first concert at a local nightclub, The Hive.  The word on the street is that the night is set to be buzzing!'
Wouldn't the chick make the cutest Easter card?