Since last weeks craft fair is done and dusted – onto the next thing…  my contribution to the pincushion swap organised by Fox's Lane!
I've racked my brain and rummaged around the Internet.  I've ransacked my stash and I've routed out the ideas.  I was torn between sewing or crocheting my pincushion and I even considered a make that included both. 
But in the end I settled for crochet to make a rather simple but, in my opinion, cute little pincushion.  What swung it for me is what the recipient does for a living as it is appropriate linked to that.  I'm not going to say any more that may give away who she is but when she receives it I hope that a) she knows what it is and b) she sees why I chose it for her.
The raw ingredients: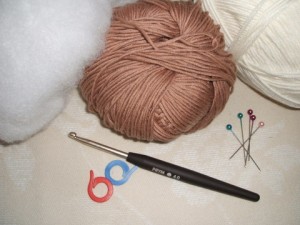 So what is it going to be…. a donut, that's what.  I found the pattern on Ravelry and really enjoyed making it.  I was torn between making a donut or a slice of cherry pie and given that Caveman and I have been watching Twin Peaks (again) recently it was a hard decision to make.  I just had to remember that it wasn't for me!
I used yarns from my stash so I can't be sure what they are for definite but I think the cream shade is Patons Smoothie.
I took lots of pics as I went along so here are the stages of the recipe:
Hmmmmm donuts! 
Don't you love the shiny pins as sprinkles.  I need to buy some more pins to send in the pincushion as these few are from my own pincushion for artistic purposes only at present, but it wouldn't be complete without them!  I do hope the recipient likes it when the parcel pops through her letterbox along with a postcard of Manchester and a couple of other little treats to make her smile!