Oh my! Oh Comely!  I've mentioned my new favourite magazine before and be warned, it's liable to come up many times in the future too.  Actually I didn't have an 'old' favourite magazine, I'm not a big magazine buyer or reader but this one really taps into the right places in my head.  
Anyway, on their website recently Oh Comely were offering a freebie of some uber-cute (did I really just say uber!) badges by Kayleigh O'Mara in exchange for telling them our favourite cat story. 
They must have liked my story because I received these goodies in the post today.  Here's my cat story:  
'A few years ago I was at my boyfriends Mums house in Edinburgh, which was a tenement flat, on the second floor! The cats came and went of their own accord when people came in and out the front door. However, on one occasion one cat decided to take the short route – right out the second floor window. Boyfriends mum squealed in horror and made for the front door. As she was half way down the stairs in a panic, the cat was sauntering up past her with its nose in the air and a look of 'what's all the fuss about.  
That's why I love cats!'
  
Oh how I love Oh Comely!  I think their stickers show just one of the reasons why…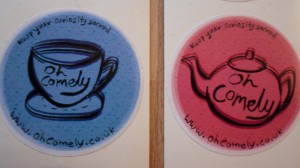 Tea cups and tea pots!!! 
And can you read the text at the top (sorry couldnt get very clear pics)?
'Keep your curiosity sacred' 
Genius!