I can't hide the fact that I became a little obsessed with the Circles Scarf from Inside Crochet Magazine, issue 11, designed by Linda Permann – I've raved on and on about it often enough on here!  In a bid to share the love I have posted before about how that actual pattern can be found, but there are some other versions of the same technique that can be used to give similar or alternative effects too.  So read on if you don't mind that you too may become hooked!
The design and pattern for the Circles Scarf are by Linda Permann and she has written a post about it on her own blog found here!  Linda has said that in a few months she will be able to offer the pattern for sale as a pdf file, but in the meantime it is available in a digital copy of Inside Crochet magazine on Yudu.  It will cost £4.99 on Yudu, which is the same price as the paper copy of the magazine when it was published, so no loss buying it that way.
Following my last post about the pattern I was contacted by Sunshine to tell me that this technique is called yo-yo crochet!  Not only is it shown on her website, Sunshine's Creations, she's written a book about it called Learn to do Yo Yo Crochet!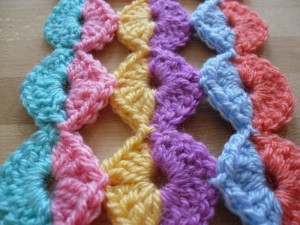 I found that details of how to use this technique aren't widely available online, but I did find this free pattern, on free-crochet, that uses it in a square form which can be adapted into other shapes or rows fairly easily.  You need to register to download this pattern, but it's worth it if you want to know how.
And there's more… a flickr group too!  The group contains many different styles using this technique, some of which aren't in my taste [sorry], or my types of colours, but they show off the technique very well.
I've also found it called a 'medallion' too, but both medallion and yo-yo crochet have many different variations so it's not as easy as googling it to find instructions on how to create it.
I found a basic description of the technique on Patchwork Crochet, if you scroll waaaaaaay down to the bottom of this page.  It also shows you how to add a border around the circles to give a different type of finish.
And finally, the lovely Heather has been trying really hard to track down the issue of Inside Crochet with the circles scarf pattern in it and eventually got a copy on Ebay! 
So, I hope this info gets you up and running with the technique.  If you grow to love it as much as I do leave a comment or send a link to your site.