So the snow continues!!!  I'm resigned now to just sitting this out at my sisters and enjoying the break.  Nothing's going to happen fast and when the snow does stop falling it will probably take a while to get the local roads clear enough to get out.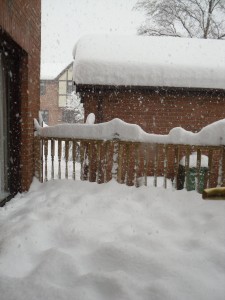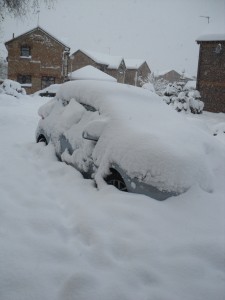 In the meantime I am starting to put my time to good use.  As I showed briefly last time, I have started crocheting here.  I never travel far without some sort of crochet and a few days away from home usually involves lots of options so I'm not forced to work on something I don't feel like.  So I have rustled up a pair of wristwarmer mittens!  Just the thing for this weather obviously!  Pity they are not thermal, but hey, who needs thermal when there's pretty!!!
The snowball is an optional extra!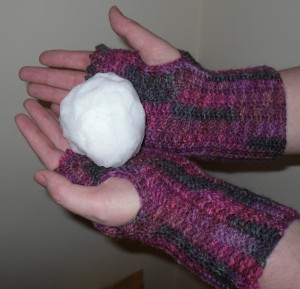 I used Austerman Step sock yarn (shade 133) that I bought a month or two ago for just this job!  I did start with a 3.5mm hook but just didn't like it so frogged it and used a 4mm which I'm much happier with.  Isn't it funny how 0.5mm makes all the difference!  There's no pattern, just a rectangle of crochet to fit the length and width of your hand / wrist, slip stitch up the sides leaving a gap for your thumb, then add a picot edge!
This morning the kids wanted to bake so my sister rooted around in the storecupboard and improvised a little and we made choc chip cookies.  The main improvisation was that the chocolate chips came from a left over Halloween lollipop and come Christmas chocolate coins.  They went down a treat with a cuppa when the job was done.  Happy kids, happy grown ups: and well fed too!!
From this: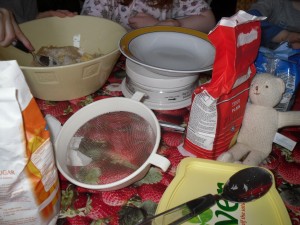 … to this!  All in the space of 30 minutes!